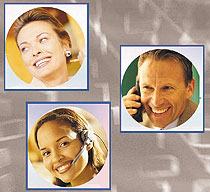 Newhall Studios is an innovative consulting firm made up of independent professionals from a variety of fields and industries.

Our talented and seasoned specialists bring a unique mix of skills and experience that span the spectrum of business, law, management, leadership, human resources, design, branding, marketing, advertising, intellectual property, photography, information systems and technology, e-commerce, web design, web integrations, security, applications, database, and web development.

We are passionately dedicated to the success of our clients. We aim to deliver unparalleled vision, responsiveness, capability, creativity, and expertise each time we take on a project. Practicing excellence is not just a catch phrase, we built our reputation on it.

We believe that experience, trust, integrity, ethics, and excellence are the cornerstones of every consulting relationship. That is why, we only take on projects that we are certain will exceed the expectations of our clients and deliver long-term value.

Our commitment to unparalleled quality, value, and results are vital aspects of the continued success of our clients and our firm. We believe in delivering only the finest possible ideas and solutions. When you choose us you are getting the very best.

Don't settle for good enough... Demand the best!